ATALAIA Artes Performativas 2017 – Creative Residencies on Performing Arts
Frist: Montag, 20. März 2017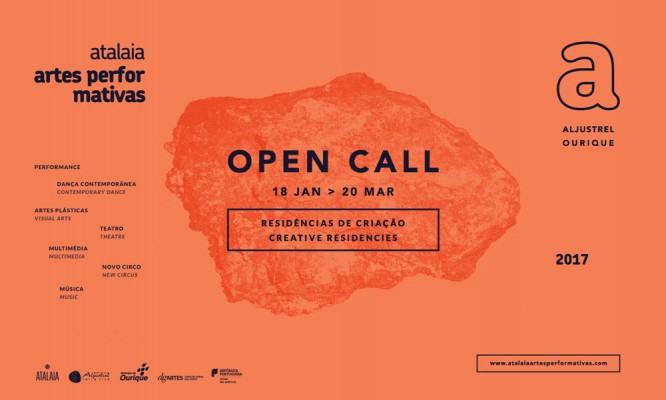 ATALAIA - Associação de Amigos da Cultura e das Artes (ATALAIA), the Municipality of Aljustrel and the Municipality of Ourique (the Municipalities) and the Regional Directorate of Culture of Alentejo / Ministry of Culture (DRCA) are opening an international call for the reception of proposals for creation residencies and public presentation during the fourth edition of Atalaia Artes Performativas (AAP) for projects in the areas of the performing arts.
The AAP intends to give creative space and promote nearness and exchange between creators and leading figures in the area of contemporary performing arts and the community of the interior of Southern Alentejo.
When: Creative Residences: 1 May 2017 to 29 June 2017 Public
Presentations: 30 June 2017 to 16 July 2017
Participation conditions: Individual or collective creators, national and international, over 18 years of age, who, independently of their training and through the information presented, demonstrate to have a trajectory or project of artistic exploration in the field of performing arts. Performative arts encompass all artistic domains of performative character, such as dance, theater, performance, music, visual arts, multimedia and new circus, regardless of the means used by the creators. It is up to the artistic direction of the AAP to define and propose the location (s) where the residency and the public presentation (s) of each project will take place.
How to apply: Applications must be submitted only through an online form created for this purpose: https://goo.gl/forms/Nu9NIky6NVDGRXaA2 The deadline for submission of applications ends on March 20th, 2017.