KRONACH in lights: OPEN CALL FOR LIGHTART
Frist: Mittwoch, 15. November 2023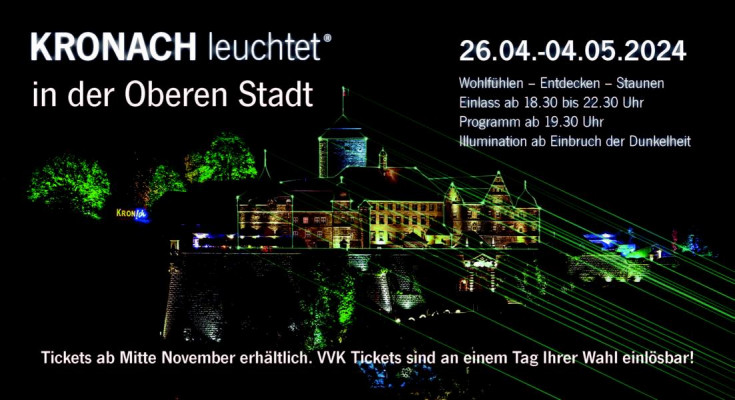 Looking for fascinating new lighting ideas! KRONACH in lights celebrates light art with 9 magical nights of light from April 26th until May 4th, 2024! Since 2006, the festival has developed into a highlight and national attraction in the 1,000-year-old city. Visitors marvel at world-class light art and enjoy the unique atmosphere.
Apply now with your light art
We are looking for surprisingly new and impressive light art: from glowing to illuminated objects to mappings and interactive installations. Please note: The light art must be weatherproof! The festival area consists partly of narrow streets and offers only a few flat surfaces, mostly with cobblestones. There is a lot of extraneous light in inner-city areas. Assembly and dismantling will take place independently from April 22nd to April 25th. and on 5/5/24.
Category Lightart A: up to €5,000 gross*
Category Lightart B: up to €10,000 gross* *
incl. transport, assembly and dismantling, rent, plus accommodation and meals during setup and dismantling. Lighting professionals should send their bright ideas to Diese E-Mail-Adresse ist vor Spambots geschützt! Zur Anzeige muss JavaScript eingeschaltet sein! by 15th November 2023.
To assess we need: - a short description of the light art project - Sketch and/or video/photo - Installation dimensions - Electricity requirements - Supervision required during the event - short CV of the artist, contact address - Category KRONACH in lights looks forward to your application. The jury will view and evaluate the incoming applications. A reason for refusal will not be published. The artists will be informed by email by 15th December 2023. The application does not create a legal right to participate in the festival. Additionally: • KRONACH in lights April 26th - May 4th, 2024 in the Upper City 9 magical nights of light to feel good, discover and be amazed Information at www.kronachleuchtet.com • International Lighting Design Workshop April 21st-26th, 2024, registration possible until April 11th.